Do Car Seats Ruin Leather?
We all know the importance of car seats in terms of keeping our children safe when we're travelling. However, if you have leather car seats they can leave some unsightly marks.
In this article, let's take a look at whether infant car seats actually ruin leather, how you can prevent this from happening, how you can remove any marks and what car seat protector you should consider purchasing.
Do infant car seats ruin leather?
Most car seat manufacturers tell us that when a seat is fitted correctly it will not damage any leather seats. They state that only a car seat that is installed too tightly will leave indents in the leather. In reality, it isn't quite that simple. Infant and child car seats and their bases are heavy and usually have plastic parts sticking out which makes marks on leather more likely to develop over time. The constant pressure and tight fit of the seats mean that you may want to take precautions to protect your leather.
How do you protect leather seats from car seats?
It is much better to get ahead of any potential damage from installing an infant car seat onto leather seats. It will save you time and perhaps even money down the road to take a few preventative measures. Plus, there is a risk that any damage done to the leather could be permanent if it is left too long.
Here are some popular tricks to protect your leather and prevent damage:
Purchase a car seat protector. A car seat protector is designed to extend the life of your car's upholstery. A car seat protector is fitted directly onto the leather, usually using the headrest, and the infant car seat is installed on top. This is the easiest and quickest measure to take to prolong the life of your leather. It's important to check that the protector itself is a good fit for your car and won't cause any damage of its own. Most importantly, check that the infant car seat will be safe when fitted on it. There are a whole host of options on the market. Have a look at the features, pros and cons of the Lusso Gear Car Seat Protector below.
Rest and condition the seats. The length of time that the infant car seats are fitted on leather can have an impact on any marks. Regularly remove the infant car seat, use a leather conditioning product and keep the car seat off the leather so it can rest for as long as possible to allow time for any marks to disappear. This method will slow things down but be warned that it may not negate marks on leather in the long term.
Find an alternative seat cover. There are some household items such as thin towels or mats that could potentially be used between the car seat and leather. If you don't have anything around your home, you can easily purchase a mat online. However, it is important to assess the safety impact before installing an infant car seat on anything other than the leather directly.
How can you remove car seat marks from leather?
It is important to act fast. The longer a mark is left on leather the more likely it is to become permanent. Your first step should be to rest and condition the leather. Take out the infant car seat, clean the leather using a specialist conditioner and leave it for as long as it takes for any marks to disappear.
If this method is not working for your leather you can try applying heat to the mark. Wait for the leather to warm up until you can see the area loosen. Next, apply pressure to the heated mark area using a microfibre cloth to smooth it out and return the leather to its former glory. Have a look at this instructional video that walks you through the process.
What is the best car seat protector for leather?
For child car seats
The Lusso Gear Car Seat Protector is a highly rated and affordable choice. It comes in several colours to match your leather and has handy pockets that help organise your child's must-have snacks and toys for the journey. Lusso Gear claims that its 9-layers of protective fabric are water resistant, easy to clean and prevent odours. It is also LATCH certified which means it is designed to work coherently with your car seat system.
Pros
The price is right. This is a budget-friendly option to protect your leather.
The large size of the seat protector gives excellent coverage for any car.
The 1-year money back guarantee offers piece of mind in case it doesn't fit the bill.
Con
There is no attachment strap at the bottom of the car seat protector. This means you need to take extra care when installing the car seat on top to ensure the protector stays in place.
For pets
It's not just infant and child car seats that can damage leather. Pets can cause indents, marks and stains on your leather when they come along for the ride.
The 4Kines Dog Seat Cover is a mid-range option to protect your leather car seat. It is a multi-layered, reinforced polyester fabric cover with easy access slots to seat belts and latch anchors. The cover comes in three colours and it's fitted design means it sits snugly on your car seats.
Pros
It's easy to clean. The cover can be wiped down or put in the washing machine.
It is simple to install with easy-to-use buckles and an elasticated fitted bottom.
Cons
While the seat bottom is waterproof, the seams are not and so there is potential for leaks.
It is more expensive than some of the other options out there.
–
Enjoyed reading this article? Please 'pin' the image below and share on Pinterest!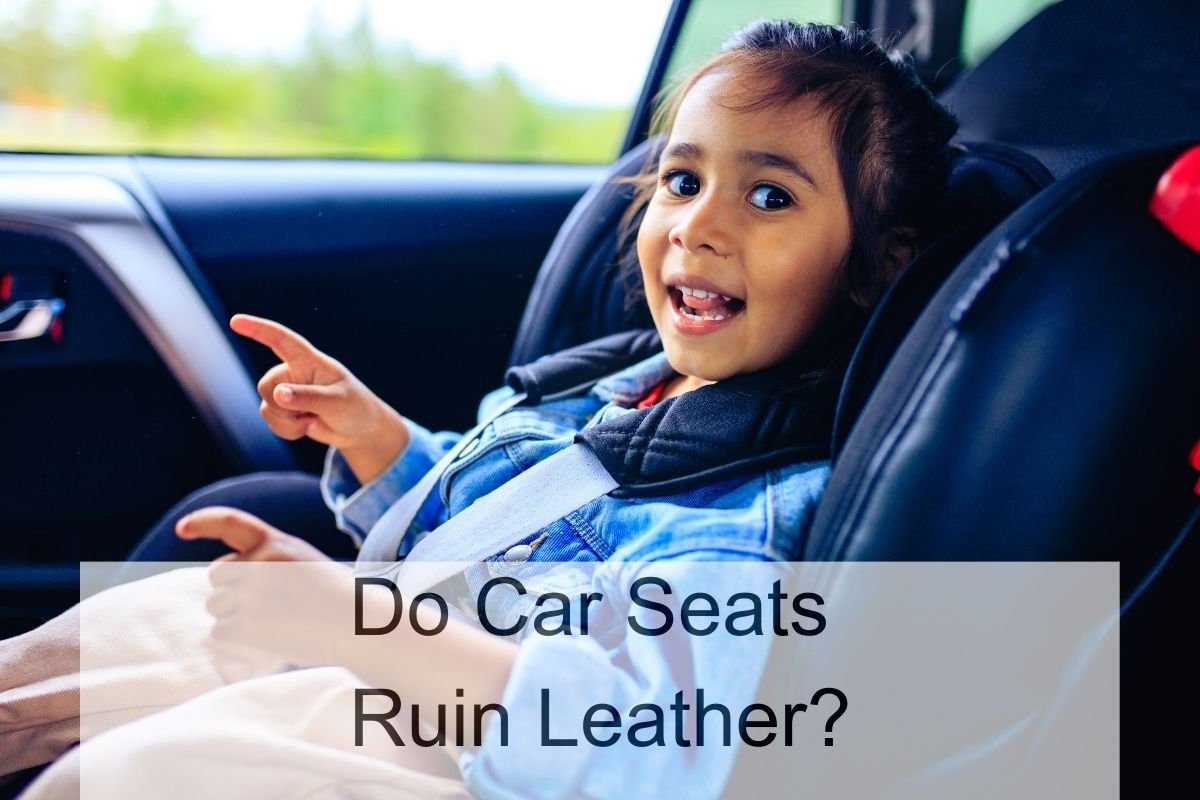 FAQs
Are seat protectors safe?
It is important to check that the car seat protector you purchase is compatible with your car seat. A car seat protector that is not fitted correctly with the car seat could affect that safety. According to Which? a car seat protector should only be used if it has been crash tested with your seat. Check the car seat manual and do your research before making your decision.
Is it ok to put a towel or blanket under a child car seat?
Once again, make sure you consult your car seat's manual and follow their safety guidelines before adding anything. If you do choose to use a towel or blanket under the seat it must be thin. The seat should not move more than one inch at the belt path, which is where the seat belt or latch straps go through the seat.